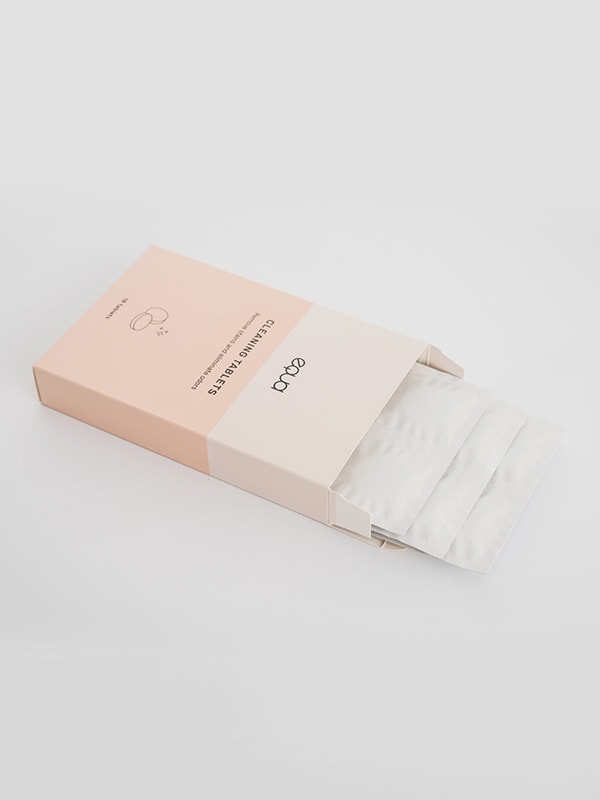 PERSONALISE
In stock. Ready to ship.
Out of stock.
Shipping starts January 30th.
Keep your drinking bottle sparkling clean and fresh with the natural and biodegradable EQUA cleaning tabs. They are easy to use and efficiently remove stubborn stains so that your favourite EQUA bottle shines like new. No rubbing or sponging required.

18 Tabs
N

atural

Biodegradable tabs

V

egan
Our cleaning tabs for the water bottles can be used for all water bottles made of glass, plastic and stainless steel. In order to clean the stainless steel bottles optimally and gently, we recommend rinsing the bottle with soap after cleaning.
Choose your shipping area:
Delivery time in working days is 3 - 727 - 14 days
Shipping rates
Orders under 50€:

3€ (Overseas)
Orders under 50€:

1,9€ (GLS Slovenia)
Orders under 70€:

4,9€ (GLS Spain)
Orders under 50€:

3€ (GLS Italy)
Orders under 50€:

4,9€ (GLS)
Orders under 70€:

8,9€ (DHL)
Orders under 70€:

5,4€ (Posta Slovenia)
Orders under 100€:

15€ (DHL)
Orders under 50€:

4,9€ (GLS)
Orders under 70€:

8,6€ (GLS)
Orders under 70€:

8,9€ (GLS)
Orders under 50€:

15€ (DHL)
Orders under 100€:

15€ (DHL)
Orders under 70€:

8,9€ (DHL)
Orders under 100€:

15€ (DHL)
Orders under 70€:

7,9€ (DHL)
Orders under 70€:

8,9€ (DHL)
Orders under 70€:

8,9€ (DHL)
Orders under 70€:

8,9€ (DHL)
Orders under 70€:

8,9€ (DHL)
Orders under 70€:

8,9€ (DHL)
Orders under 70€:

7€ (Posta Slovenia)
Orders under 70€:

8,9€ (DHL)
Orders under 70€:

8,9€ (DHL)
Orders under 70€:

8,9€ (DHL)
Orders under 70€:

8,9€ (DHL)
Orders under 70€:

8,9€ (DHL)
Orders under 70€:

8,9€ (DHL)
Orders under 70€:

8,9€ (DHL)
Orders under 70€:

8,9€ (DHL)
Orders under 100€:

15€ (DHL)
Orders under 50€:

10€ (DHL)
Orders under 70€:

5,4€ (Posta Slovenia)
Orders under 70€:

8,9€ (DHL)
Orders under 100:

15€ (DHL)
Orders above 50€:

Free
Estimated time for delivery:

2- 4 working days
Orders above 50€:

Free
Estimated time for delivery:

1- 2 working days
Orders above 70€:

Free
Estimated time for delivery:

8- 10 working days
Orders above 50€:

Free
Estimated time for delivery:

2- 5 working days
Orders above 50€:

Free
Estimated time for delivery:

2- 4 working days
Orders above 70€:

Free
Estimated time for delivery:

8- 10 working days
Orders above 70€:

Free
Estimated time for delivery:

5- 7 working days
Estimated time for delivery:

3- 5 working days
Orders above 50€:

Free
Estimated time for delivery:

1- 2 working days
Orders above 70€:

Free
Estimated time for delivery:

2- 3 working days
Orders above 70€:

Free
Estimated time for delivery:

2- 3 working days
Estimated time for delivery:

3- 5 working days
Estimated time for delivery:

3- 5 working days
Orders above 70€:

Free
Estimated time for delivery:

3- 4 working days
Estimated time for delivery:

3- 5 working days
Orders above 70€:

Free
Estimated time for delivery:

1- 2 working days
Orders above 70€:

Free
Estimated time for delivery:

3- 4 working days
Orders above 70€:

Free
Estimated time for delivery:

3- 4 working days
Orders above 70€:

Free
Estimated time for delivery:

3- 4 working days
Orders above 70€:

Free
Estimated time for delivery:

3- 4 working days
Orders above 70€:

Free
Estimated time for delivery:

3- 4 working days
Orders above 70€:

Free
Estimated time for delivery:

3- 4 working days
Orders above 70€:

Free
Estimated time for delivery:

3- 4 working days
Orders above 70€:

Free
Estimated time for delivery:

3- 4 working days
Orders above 70€:

Free
Estimated time for delivery:

3- 4 working days
Orders above 70€:

Free
Estimated time for delivery:

3- 4 working days
Orders above 70€:

Free
Estimated time for delivery:

3- 4 working days
Orders above 70€:

Free
Estimated time for delivery:

3- 4 working days
Orders above 70€:

Free
Estimated time for delivery:

3- 4 working days
Orders above 70€:

Free
Estimated time for delivery:

3- 4 working days
Estimated time for delivery:

3- 5 working days
Estimated time for delivery:

3- 5 working days
Orders above 70€:

Free
Estimated time for delivery:

3- 5 working days
Estimated time for delivery:

3- 5 working days
Choose DHL for on-time delivery and reliability:
Economy 10€ (3 working days)
Choose DHL for on-time delivery and reliability:
Economy 12,5€ (2 working days)
Choose DHL for on-time delivery and reliability:
Economy 9,8€ (3 working days)
Choose DHL for on-time delivery and reliability:
Economy 9,8€ (2 working days)
Choose DHL for on-time delivery and reliability:
Economy 12,5€ (2 working days)
Choose DHL for on-time delivery and reliability:
Economy 12,5€ (2 working days)
Returns and Refunds