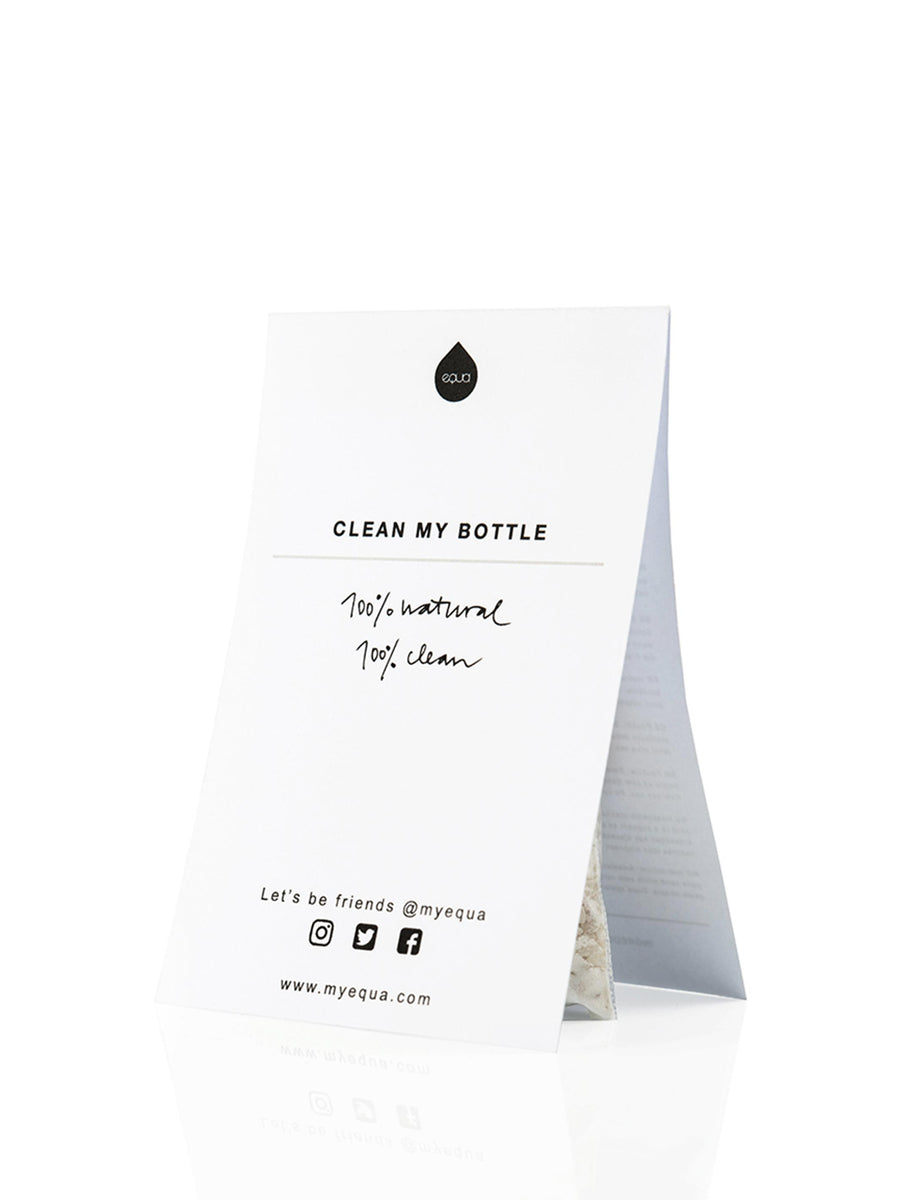 PERSONALISE
In stock. Ready to ship.
Out of stock.
Shipping starts January 30th.
To maintain your EQUA bottle, make sure to regularly clean it. But please try to avoid detergents that can harm nature and your bottle.
Worry not, we've concocted a planet-friendly mixture based on rice and sodium bicarbonate that works like a charm. And… It's really easy to use! 
Mix the ingredients with 0,1L of water and shake until the bottle is clean. For even better results, leave the cleaning mix in the bottle overnight before shaking it. After cleaning, rinse your bottle with water thoroughly.
Weight: 50g
Choose your shipping area:
Delivery time in working days is 3 - 727 - 14 days
Shipping rates
Orders under 50€:

3€ (Overseas)
Orders under 50€:

1,9€ (GLS Slovenia)
Orders under 70€:

4,9€ (GLS Spain)
Orders under 50€:

3€ (GLS Italy)
Orders under 50€:

4,9€ (GLS)
Orders under 70€:

8,9€ (DHL)
Orders under 70€:

5,4€ (Posta Slovenia)
Orders under 100€:

15€ (DHL)
Orders under 50€:

4,9€ (GLS)
Orders under 70€:

8,6€ (GLS)
Orders under 70€:

8,9€ (GLS)
Orders under 50€:

15€ (DHL)
Orders under 100€:

15€ (DHL)
Orders under 70€:

8,9€ (DHL)
Orders under 100€:

15€ (DHL)
Orders under 70€:

7,9€ (DHL)
Orders under 70€:

8,9€ (DHL)
Orders under 70€:

8,9€ (DHL)
Orders under 70€:

8,9€ (DHL)
Orders under 70€:

8,9€ (DHL)
Orders under 70€:

8,9€ (DHL)
Orders under 70€:

7€ (Posta Slovenia)
Orders under 70€:

8,9€ (DHL)
Orders under 70€:

8,9€ (DHL)
Orders under 70€:

8,9€ (DHL)
Orders under 70€:

8,9€ (DHL)
Orders under 70€:

8,9€ (DHL)
Orders under 70€:

8,9€ (DHL)
Orders under 70€:

8,9€ (DHL)
Orders under 70€:

8,9€ (DHL)
Orders under 100€:

15€ (DHL)
Orders under 50€:

10€ (DHL)
Orders under 70€:

5,4€ (Posta Slovenia)
Orders under 70€:

8,9€ (DHL)
Orders under 100:

15€ (DHL)
Orders above 50€:

Free
Estimated time for delivery:

2- 6 working days
Orders above 50€:

Free
Estimated time for delivery:

1- 2 working days
Orders above 70€:

Free
Estimated time for delivery:

8- 10 working days
Orders above 50€:

Free
Estimated time for delivery:

2- 5 working days
Orders above 50€:

Free
Estimated time for delivery:

2- 4 working days
Orders above 70€:

Free
Estimated time for delivery:

8- 10 working days
Orders above 70€:

Free
Estimated time for delivery:

5- 7 working days
Estimated time for delivery:

3- 5 working days
Orders above 50€:

Free
Estimated time for delivery:

1- 2 working days
Orders above 70€:

Free
Estimated time for delivery:

2- 3 working days
Orders above 70€:

Free
Estimated time for delivery:

2- 3 working days
Estimated time for delivery:

3- 5 working days
Estimated time for delivery:

3- 5 working days
Orders above 70€:

Free
Estimated time for delivery:

3- 4 working days
Estimated time for delivery:

3- 5 working days
Orders above 70€:

Free
Estimated time for delivery:

1- 2 working days
Orders above 70€:

Free
Estimated time for delivery:

3- 4 working days
Orders above 70€:

Free
Estimated time for delivery:

3- 4 working days
Orders above 70€:

Free
Estimated time for delivery:

3- 4 working days
Orders above 70€:

Free
Estimated time for delivery:

3- 4 working days
Orders above 70€:

Free
Estimated time for delivery:

3- 4 working days
Orders above 70€:

Free
Estimated time for delivery:

3- 4 working days
Orders above 70€:

Free
Estimated time for delivery:

3- 4 working days
Orders above 70€:

Free
Estimated time for delivery:

3- 4 working days
Orders above 70€:

Free
Estimated time for delivery:

3- 4 working days
Orders above 70€:

Free
Estimated time for delivery:

3- 4 working days
Orders above 70€:

Free
Estimated time for delivery:

3- 4 working days
Orders above 70€:

Free
Estimated time for delivery:

3- 4 working days
Orders above 70€:

Free
Estimated time for delivery:

3- 4 working days
Orders above 70€:

Free
Estimated time for delivery:

3- 4 working days
Estimated time for delivery:

3- 5 working days
Estimated time for delivery:

3- 5 working days
Orders above 70€:

Free
Estimated time for delivery:

3- 5 working days
Estimated time for delivery:

3- 5 working days
Choose DHL for on-time delivery and reliability:
Economy 10€ (3 working days)
Choose DHL for on-time delivery and reliability:
Economy 12,5€ (2 working days)
Choose DHL for on-time delivery and reliability:
Economy 9,8€ (3 working days)
Choose DHL for on-time delivery and reliability:
Economy 9,8€ (2 working days)
Choose DHL for on-time delivery and reliability:
Economy 12,5€ (2 working days)
Choose DHL for on-time delivery and reliability:
Economy 12,5€ (2 working days)
Returns and Refunds