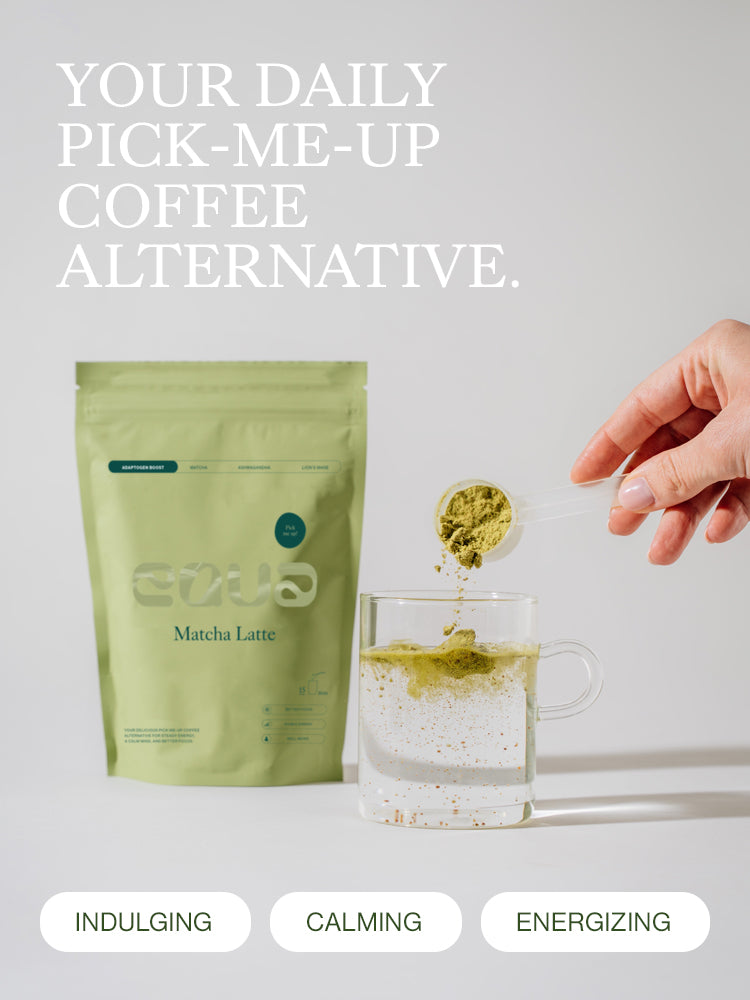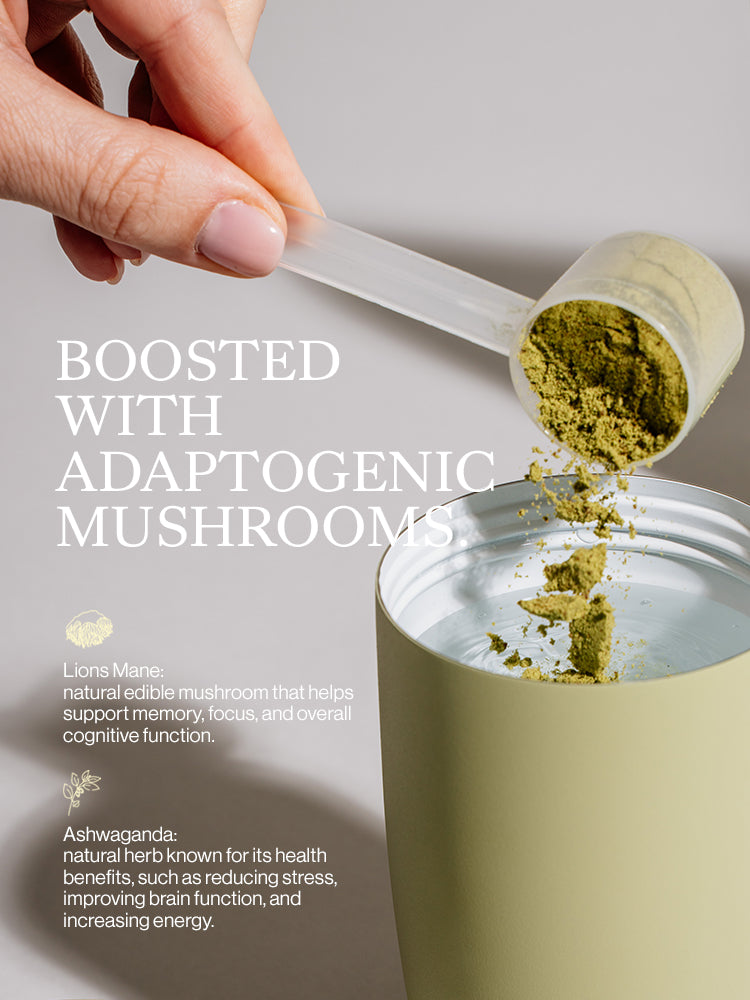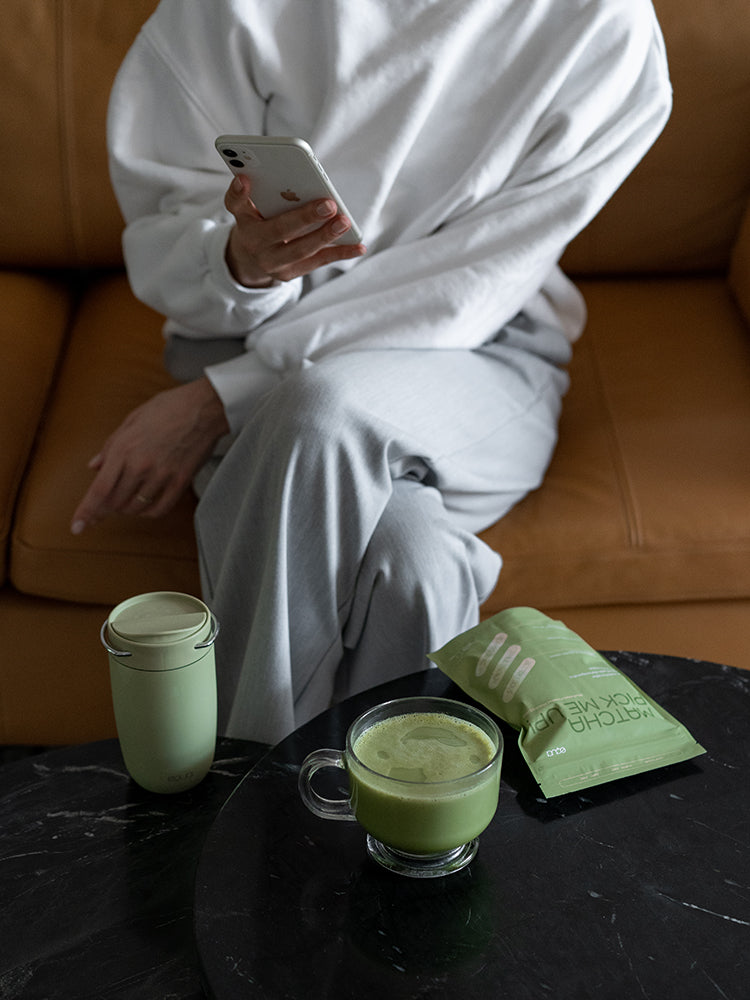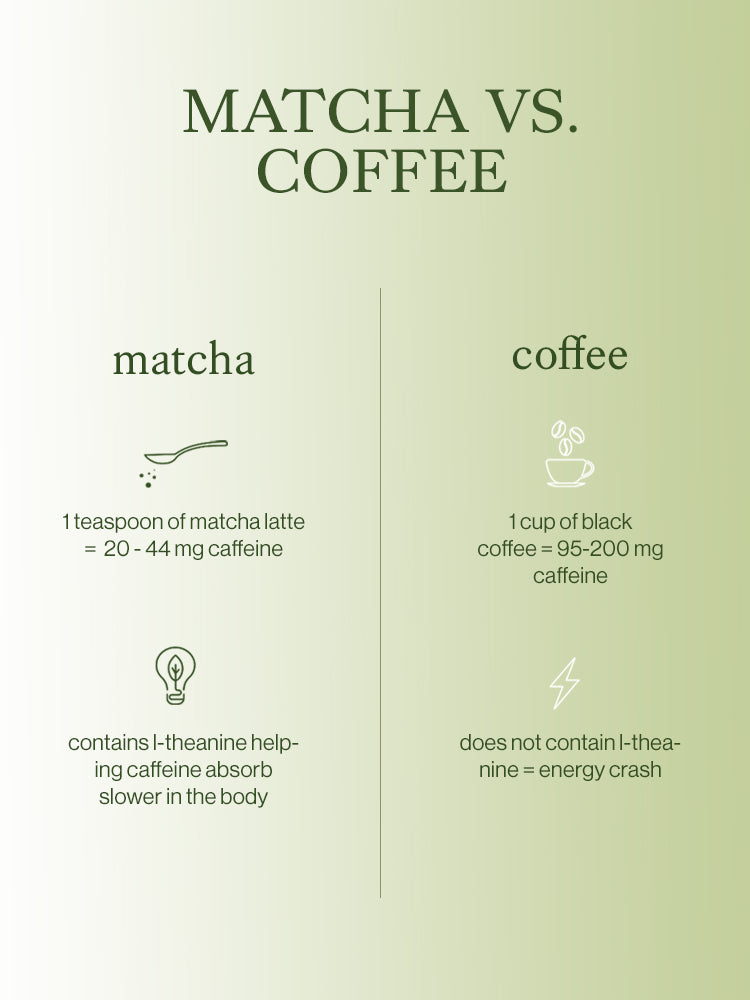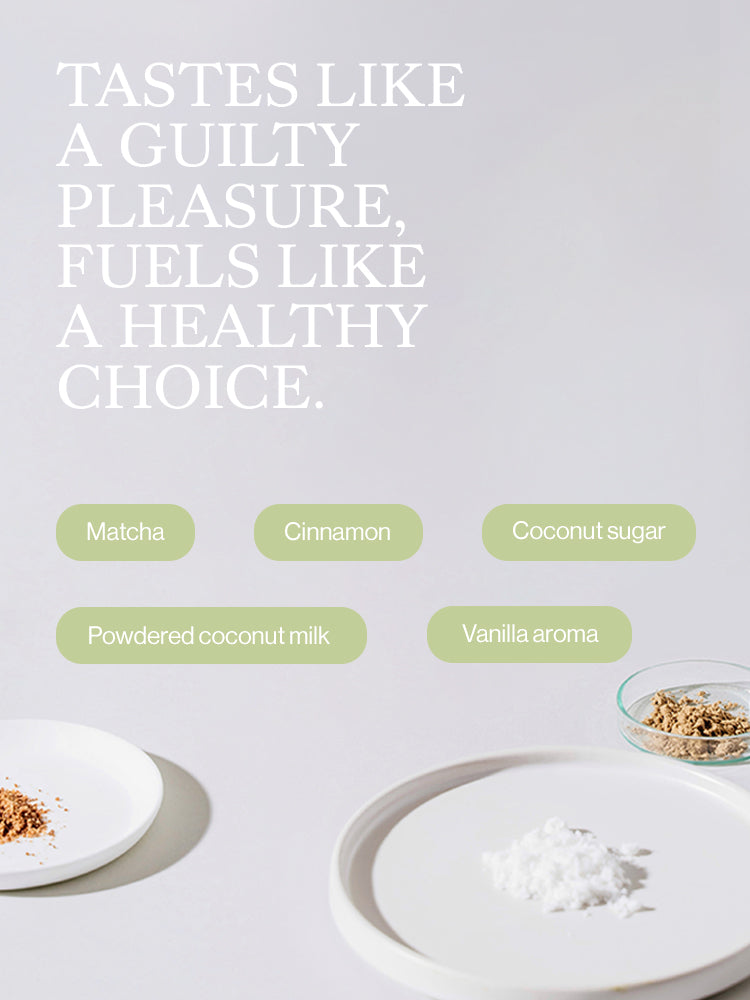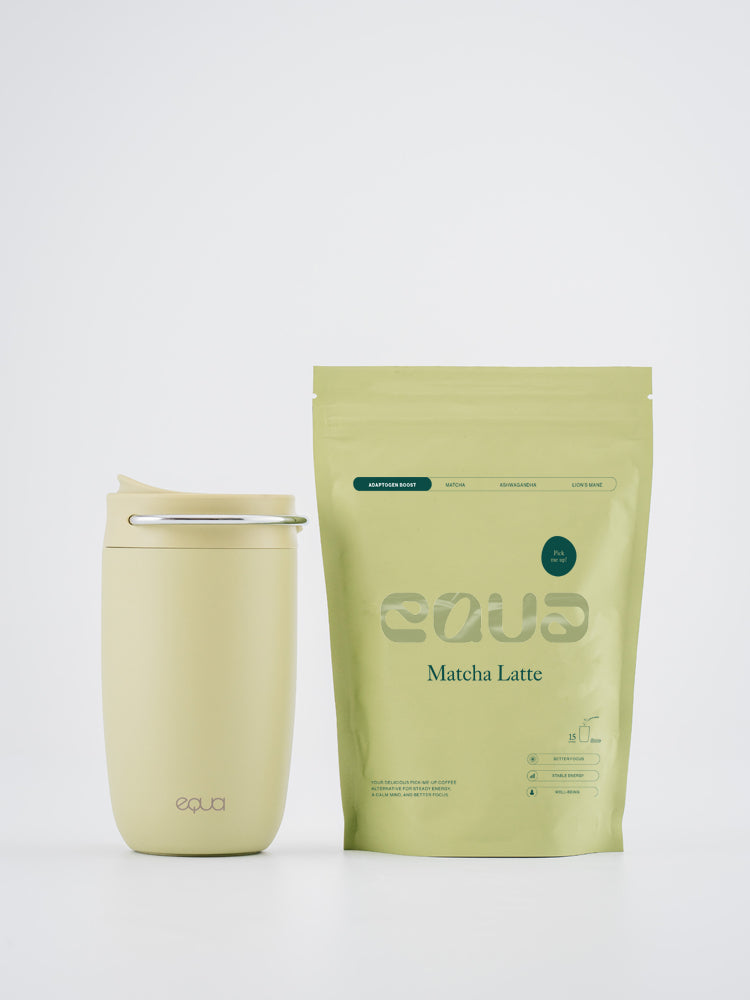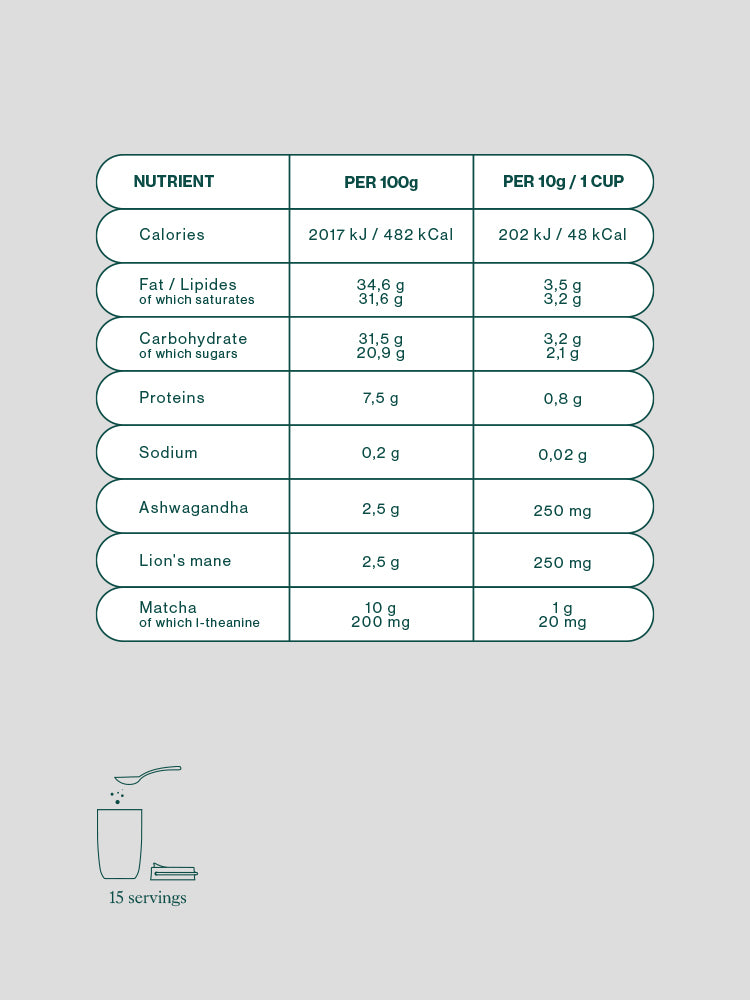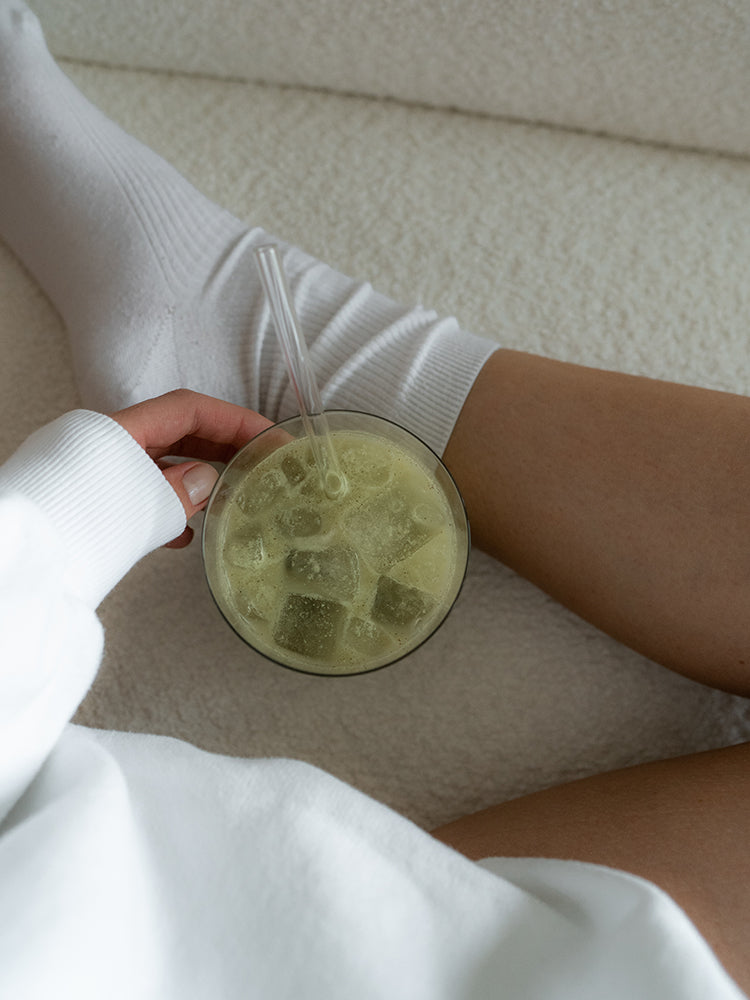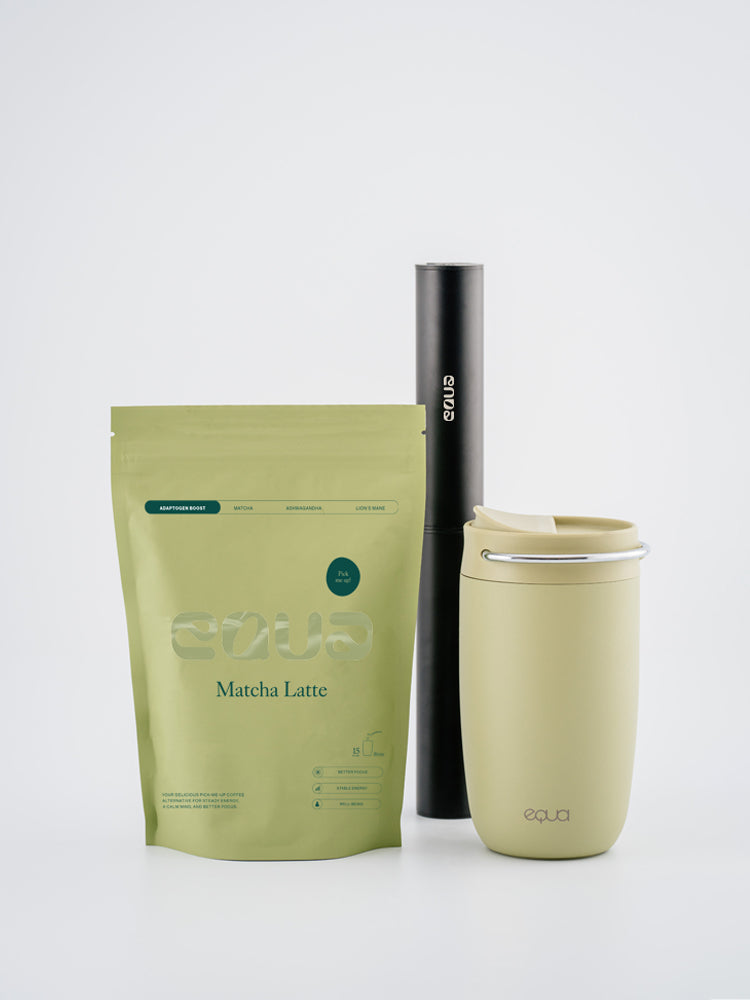 PERSONALISE
In stock. Ready to ship.
Out of stock.
Shipping starts January 30th.
Looking for a natural and delicious way to boost your energy and focus? Made with high-quality Japanese matcha and adaptogenic mushrooms, this indulgent blend is designed to leave you energized & clear-headed. 
Enjoy it in the afternoon or whenever you need a steady pick-me-up instead of reaching for more coffee.
The natural L-Theanine in Matcha provides stable energy and better focus without caffeine jitters
Boosted with Lion's mane and Ashwagandha - two natural ingredients best known for their long term stress-reducing properties. 
Smooth vanilla and coconut aroma with a dash of cinnamon
Enriched with powdered coconut milk for extra creaminess
Only 45 calories per latte
Contains 15 servings (150g)
Frother is not included. You can get yours HERE.
Coconut milk powder. Coconut sugar, matcha powder, ashwaganda (Withania samnifera) extract, Lions mane (Hericium erinaceus) extract, cinnamon, aroma.
Simply place 1 tsp (10g) of Matcha powder and mix with 200 ml of hot water. You can add frothed milk of your choice for extra smoothness.
Choose your shipping area:
Delivery time in working days is 3 - 727 - 14 days
Shipping rates
Orders under 50€:

3€ (Overseas)
Orders under 50€:

1,9€ (GLS Slovenia)
Orders under 70€:

4,9€ (GLS Spain)
Orders under 50€:

3€ (GLS Italy)
Orders under 50€:

4,9€ (GLS)
Orders under 70€:

8,9€ (DHL)
Orders under 70€:

5,4€ (Posta Slovenia)
Orders under 100€:

15€ (DHL)
Orders under 50€:

4,9€ (GLS)
Orders under 70€:

8,6€ (GLS)
Orders under 70€:

8,9€ (GLS)
Orders under 50€:

15€ (DHL)
Orders under 100€:

15€ (DHL)
Orders under 70€:

8,9€ (DHL)
Orders under 100€:

15€ (DHL)
Orders under 70€:

7,9€ (DHL)
Orders under 70€:

8,9€ (DHL)
Orders under 70€:

8,9€ (DHL)
Orders under 70€:

8,9€ (DHL)
Orders under 70€:

8,9€ (DHL)
Orders under 70€:

8,9€ (DHL)
Orders under 70€:

7€ (Posta Slovenia)
Orders under 70€:

8,9€ (DHL)
Orders under 70€:

8,9€ (DHL)
Orders under 70€:

8,9€ (DHL)
Orders under 70€:

8,9€ (DHL)
Orders under 70€:

8,9€ (DHL)
Orders under 70€:

8,9€ (DHL)
Orders under 70€:

8,9€ (DHL)
Orders under 70€:

8,9€ (DHL)
Orders under 100€:

15€ (DHL)
Orders under 50€:

10€ (DHL)
Orders under 70€:

5,4€ (Posta Slovenia)
Orders under 70€:

8,9€ (DHL)
Orders under 100:

15€ (DHL)
Orders above 50€:

Free
Estimated time for delivery:

2- 6 working days
Orders above 50€:

Free
Estimated time for delivery:

1- 2 working days
Orders above 70€:

Free
Estimated time for delivery:

8- 10 working days
Orders above 50€:

Free
Estimated time for delivery:

2- 5 working days
Orders above 50€:

Free
Estimated time for delivery:

2- 4 working days
Orders above 70€:

Free
Estimated time for delivery:

8- 10 working days
Orders above 70€:

Free
Estimated time for delivery:

5- 7 working days
Estimated time for delivery:

3- 5 working days
Orders above 50€:

Free
Estimated time for delivery:

1- 2 working days
Orders above 70€:

Free
Estimated time for delivery:

2- 3 working days
Orders above 70€:

Free
Estimated time for delivery:

2- 3 working days
Estimated time for delivery:

3- 5 working days
Estimated time for delivery:

3- 5 working days
Orders above 70€:

Free
Estimated time for delivery:

3- 4 working days
Estimated time for delivery:

3- 5 working days
Orders above 70€:

Free
Estimated time for delivery:

1- 2 working days
Orders above 70€:

Free
Estimated time for delivery:

3- 4 working days
Orders above 70€:

Free
Estimated time for delivery:

3- 4 working days
Orders above 70€:

Free
Estimated time for delivery:

3- 4 working days
Orders above 70€:

Free
Estimated time for delivery:

3- 4 working days
Orders above 70€:

Free
Estimated time for delivery:

3- 4 working days
Orders above 70€:

Free
Estimated time for delivery:

3- 4 working days
Orders above 70€:

Free
Estimated time for delivery:

3- 4 working days
Orders above 70€:

Free
Estimated time for delivery:

3- 4 working days
Orders above 70€:

Free
Estimated time for delivery:

3- 4 working days
Orders above 70€:

Free
Estimated time for delivery:

3- 4 working days
Orders above 70€:

Free
Estimated time for delivery:

3- 4 working days
Orders above 70€:

Free
Estimated time for delivery:

3- 4 working days
Orders above 70€:

Free
Estimated time for delivery:

3- 4 working days
Orders above 70€:

Free
Estimated time for delivery:

3- 4 working days
Estimated time for delivery:

3- 5 working days
Estimated time for delivery:

3- 5 working days
Orders above 70€:

Free
Estimated time for delivery:

3- 5 working days
Estimated time for delivery:

3- 5 working days
Choose DHL for on-time delivery and reliability:
Economy 10€ (3 working days)
Choose DHL for on-time delivery and reliability:
Economy 12,5€ (2 working days)
Choose DHL for on-time delivery and reliability:
Economy 9,8€ (3 working days)
Choose DHL for on-time delivery and reliability:
Economy 9,8€ (2 working days)
Choose DHL for on-time delivery and reliability:
Economy 12,5€ (2 working days)
Choose DHL for on-time delivery and reliability:
Economy 12,5€ (2 working days)
Returns and Refunds